The website Touhou Garakuta published a review of Epitaph as part of their weekly review feature! You can read the original text here.
A small note before the translation starts: if you remember my review of this album you probably know this, but my opinion of Epitaph is the exact opposite of the one of this review. Different strokes for different folks!
Ah, and do not repost this translation without permission.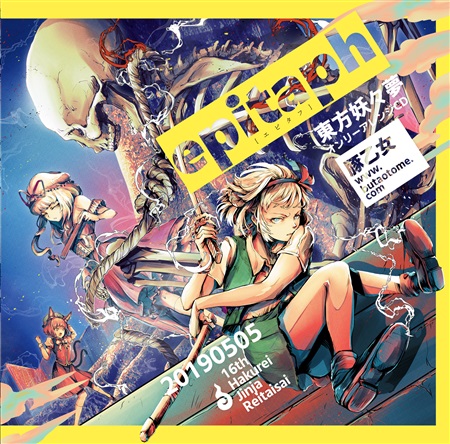 –The album I want you to listen from BUTAOTOME, who is continuing to evolve!!—
BUTAOTOME is
The bassist Comp (polar bear)
The vocalist Ranko (human)
The pianist Paprika (cat)
The illustrator and designer Ranko no Ane
The four of them are a Touhou arrange band music circle who will celebrate 10 years of activity this year (if you go to one of their concerts you can understand why I wrote animals next to their name).
This band makes mainly rock and pop music, but one of their strong points are the melodies of the bassist Comp. With a technique that has a accent on Japanese style, he creates a catchy sound that makes you want to sing and hum the songs.
And then we have Ranko's skills, a vocalist who can express her ego with a slurry heart, from a singing voice that powerfully strikes just like an instrument, to one full of kindness, who gently wraps you in the warm spring sunlight.
This is BUTAOTOME, a band that combines these two to create a variety of songs from hard rock to ballads with superb quality.
For those who want to get into BUTAOTOME, they have released too many albums (about 70 or more), so I would say "If you buy the four BUTABESTs (but they still released 4 discs), you'll get a rough idea". But even so, I would like to introduce you to "Epitaph" Why? It's simply because it's of high quality just like the four BEST albums.
I will now introduce you to two tracks from Epitaph I especially want you to listen!
The first is track 3, Momoiro Five-star.
This song is an arrange of Tenkuu no Hana no Miyako, Perfect Cherry Blossom's stage 4, but the way the melody has been arranged is very interesting. It's characteristic that the melody part that comes in quietly in the original song, is brought boldly to the chorus.
The arrangements of Tenkuu no Hana no Miyako tend to be moist overall, in accordance with the atmosphere of the melody of the refrain. This song has a completely different vibe from the usual one. "Momoiro Five-star" is a song that gives the impression of a storm of cherry blossoms in full bloom that is beautiful and fun, and you suddenly start to dance.
Ranko's cheerfulness is conveyed through her singing voice, like a girl delight who is excited for the arrival of spring. When you listen to it, it's a fun song that makes you want to dance. This is a song that fans of Tenkuu no Hana no Miyako must listen to.
The other song is track 8, Haru no Yuki. It has become a personal mega-hit among the Touhou arranges released this year.
The original theme is Mukau no Kyou ~ Deep Mountain, the first stage from Perfect Cherry Blossom. It's an impressive melody that, at the beginning of the resolution of the Spring Snow Incident, makes you feel the chilly and desolate snow and a quiet and subdued refinement in that scenery. It's sung in a cool style, leaving the flow of the original song clean, and Ranko's powerful vocals running out with all her strength. This song shows BUTAOTOME's arrangement that makes the best use of their own characteristics as an easy way.
"Haru no Yuki" was first performed at the Nico Nico Choukaigi Live in 2019, a few months before Epitaph's release (Violet's note: it was actually a week before). At that time, Comp said that the lyrics of this song were written on the day he found out about the death of wowaka from Hitorie.
It's a melody that makes you feel the sprint and the strength as you are holding a baton tightly and running off with full power while thinking about wowaka with painful reluctance, and the lives they had together in the past.
Some parts of the lyrics, like "without saying goodbye, without even being able to say goodbye" or "the tears travel down my cheeks without accumulating" might be the words Comp said at the time.
However, Comp concluded the talk by saying "nevertheless, you don't need to be sad when you listen to this song".
In fact, their performance of Haru no Yuki was powerful and very lively.
To live happily and energic is the best thing we can do for wowaka now. It seems to tell us this, and I personally think this song can be very positive.
Please listen to this Epitaph (a poem engraved on a tombstone) filled with the thoughts of a band called BUTAOTOME!