PAGE UNDER RENEWAL. Please wait warmly.
These are the goods that you can find at BUTAOTOME lives. Please note that you can only find the most recent stuff, but there might be sales of older stuff if you are lucky.
T-shirts – T-shirts sold at BUTAOTOME's lives
Oshanti Series – A series of T-shirts with unique designs. The name comes from the word "oshare" (stylish)
Other – Other goods sold at lives, such as towels, wristbands, bags, etc.
T-shirts
Touhou Freaks Vol.1 T-shirt
Sizes: Medium, large, extra large
Price: 2500 yen
Other
Buta Lounge Motel Keyholder
Price: 1000 yen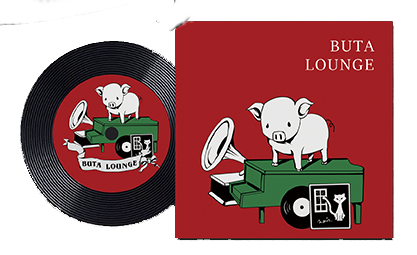 Buta Lounge Record-style Coaster
Price: 1000 yen
Buta Lounge Special Glass mug
Price: 1800 yen
Trauma Recorder tour Towel
Price: 1500 yen
Exclusive to the Trauma Recorder tour (January/February 2018)
Trauma Recorder tour wristband
Price: 500 yen
Exclusive to the Trauma Recorder tour (January/February 2018)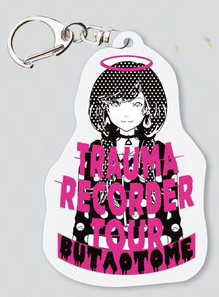 Trauma Recorder tour keyholder
Price: 700 yen
Exclusive to the Trauma Recorder tour (January/February 2018)
Namanamashii Towel
Price: 1500 yen
Exclusive to the Namanamashii Buta live (12/11/2017)
Namanamashii wristband
Price: 500 yen
Exclusive to the Namanamashii Buta live (12/11/2017)
Touhou Freaks Vol.1 Towel
Price: 1500 yen
Furubokkoru tour Towel
Price: 1000 yen
Kore made mo BUTAOTOME Towel
Price: 1500 yen
Kore made mo BUTAOTOME wristband
Price: 500 yen
Exclusive to the Kore made mo BUTAOTOME, Kore kara mo BUTAOTOME live (19/03/2017)
BUTAOTOME CD Jacket badges Vol.2
Album covers: Eight, Kouseki Radio, Hikari, Kemonomichi, Shoujo Rengoku, Itanshinmon, TRASH BOX, Acoustic Gakkyokushuu, BUTABEST 2, Pop, Billiards, Hanafuda, Touhou Nekokenban 4-5-6
Sizes: 4cm x 4cm
Price: 200 yen for one badge (randomly chosen)
Gohoukoku Towel
Price: 1500 yen
Exclusive to the Gohoukoku ga arimasu live (03/12/2016)
Piggy Tote bag
Measures: 470mm x 760mm
Price: 1500 yen
Cover Girls Pouch
Material: Artificial leather
Measures: 205mm x 120mm
Price: 1800 yen
Lucky Train Towel
Price: 1500 yen
Exclusive to the Lucky Train live (18/07/2016)
Trauma Laundry Towel
Price: 1500 yen
Exclusive to the Trauma Laundry live (12/03/2016)
BUTAOTOME CD Jacket badges Vol.1
Album covers: Touhou Kaiten Mokuba, Gensou Homo Ludens, Long Skirt Panorama Girl, Tasogare Elegy, En, Kansha Kangeki Amearare, Oriental Yumekikou, Engen Kagura Uta, BUTABEST 1, Jitsu wa Sensai na Anata to tama ni Yuukan na…, Bowling, Chess, Touhou Nekokenban 1-2-3
Sizes: 4cm x 4cm
Price: 200 yen for one badge (randomly chosen)
Kashiramoji Towel
Price: 1500 yen
Exclusive to the Kashiramoji of songs live (19-20/09/2015)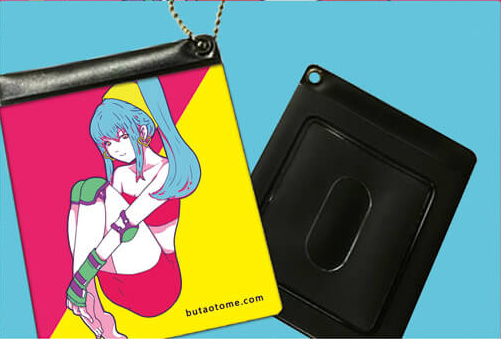 Kashiramoji IC card case
Price: 800 yen
Exclusive to the Kashiramoji of songs live (19-20/09/2015)

Kashiramoji silicon band
Price: 500 yen
Exclusive to the Kashiramoji of songs live (19-20/09/2015)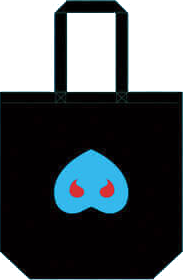 BUTAOTOME Tote bag
Measures: 36cm x 48cm
Material: cotton
Price: 1500 yen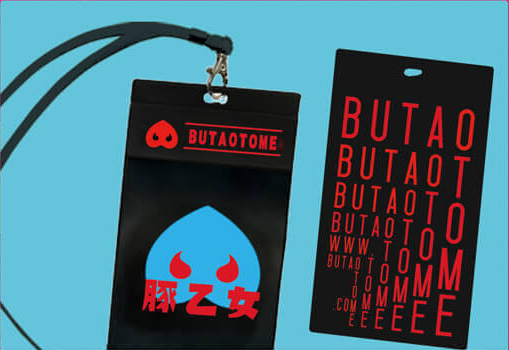 BUTAOTOME ticket holder
Price: 1000 yen
BOOTH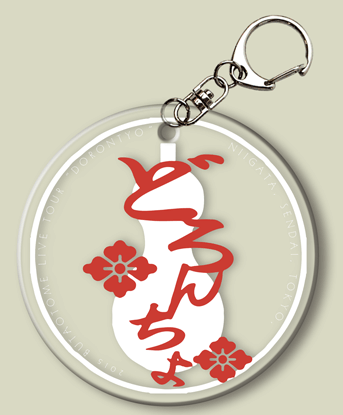 Droncho clear keyholder
Diameter: 4cm
Price: 500 yen
Exclusive to the Droncho tour (June-July 2015)
Skeleton Towel
Measures: 20cm x 115cm
Price: 1500 yen
Exclusive to the Skeleton tour (April 2015)
Jump Otome A4 cotton bag
Price: 1000 yen
Exclusive to the Jump Otome live (11/10/2014)

BUTAOTOME Silicon band
Price: 600 yen
Jump Otome Silicon band
Price: 400 yen
Exclusive to the Jump Otome live (11/10/2014)
BUTAOTOME 2014 Towel
Measures: 34cm x 84cm
Price: 1000 yen
Hanafuda Towel
Price: 1000 yen
Exclusive to the Hanafuda live (28/12/2013)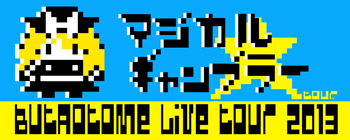 Magical Gambler Towel
Measures: 34cm x 85cm
Price: 1000 yen
Exclusive to the Magical Gambler tour (2013)
Magical Gambler Wristband
Price: 1000 yen
Exclusive to the Magical Gambler tour (2013)
Bowling Towel
Price: 1000 yen
Exclusive to the Circus live (25/11/2012)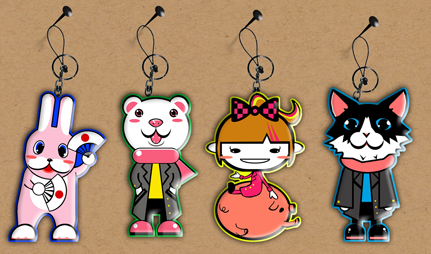 BUTAOTOME keychains
Material: rubber
Measures: 55mm
Price: 1500 yen
Exclusive to the Circus live (25/11/2012)
Ichigo & Ranko keychains
Material: rubber
Measures: 55mm
Price: 800 yen
Exclusive to the ButaSaiban tour (October 2012)
Buta mo Odaterya One man show Towel
Measures: 35cm x 80cm
Price: 1500 yen
Exclusive to the first one man live (13/11/2011)
BUTAOTOME 2011 tour Towel
Price: 1000 yen
BUTAOTOME Wristband
Price: 800 yen
Rockin Marisa sticker
Measures: 12cm x 8cm
Price: 200 yen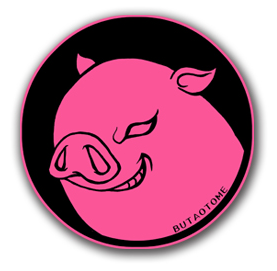 BUTAOTOME sticker
Diameter: 10cm
Price: 200 yen
Rockin Marisa Towel
Measures: 85cm x 35cm
Price: 1000 yen