About BUTAOTOME
豚乙女 (romanized as Butaotome, stylized as BUTAOTOME) is a doujin music circle.
The original four members were drinking companions, then one day they "wanted to do something fun". So, during Autumn 2009, they started the circle. They first uploaded stuff on niconico during November and the following months (cover songs, then their own Touhou arrangements), and they finally published their first album, Touhou Kaiten Mokuba, in March 2010. Since then, they always participated in every Comiket and Reitaisai (among other minor doujin events) where they bring their new releases. On the 3rd of December 2016, they announced their major debut under Avex, and they released their first major album, Furubokko, in March 2017. But they still continue their doujin activity with Touhou works. On the 24th of April 2020, the pianist Paprika announced her retirement from the group, to go overseas and expand her activities as pianist. However, the group continues their activities as 3 creatures.
BUTAOTOME's main type of work is Touhou Project vocal arrangements. They are characterized by a fairly recognizable j-pop/rock sound provided by Comp, Ranko's powerful vocals and Paprika's distinctive piano. However, they often like to experiment. Every Touhou album is distinguished by a certain motif related to the selected Touhou themes or simply for the music style. The designs of the CDs are made by Ranko no Ane (Ranko's older sister), and they also play an important role by giving more a unique feel to every album. Everything is created and produced solely by the four members of the circle (aside for a couple of albums, but for one of these it was part of the album's theme) and most of the work is made in Comp's personal studio called "Butagoya" (pigsty). They also release original albums and songs, which generally keep their more "standard" sound. Paprika also released the "Touhou Nekokenban" albums: at first they were pure piano albums with also instrumental renditions of BUTAOTOME's vocal songs, but as the series has gone on, they became more experimental. This series stopped with the 20th album and Paprika's retirement from the group.
They also have a large amount of live activity: quite often they play at special events/festivals, or as a singular circle ("one man live" in Japanese). They put a lot of energy into their performances. Ranko sings, Paprika plays the piano, Comp is on the bass and the Sis dances around. As of May 2022, they never played outside Asia.
BUTAOTOME is extremely active in the Touhou Project derivative works territories, by releasing multiple albums per year, participating in many Touhou-only lives and spot sales through Japan, having their songs featured in various rhythm games and Touhou fangames, and other stuff.
Comp is also active in music production outside of the Touhou/doujin world, by making various songs for anime, Japanese TV shows, and other artists, and playing bass for other people's compositions and arrangements.
Official website | Twitter | Youtube | Pixiv Fanbox | BOOTH
Name
The name "Butaotome" means "Pig Girl". They chose this name because they wanted a name that could stick easily. Other candidates were "Geroshabu" and "Oketsu Climax".
There are multiple spelling around: BUTAOTOME, Butaotome, Buta-Otome. Buta Otome… Only the first two are the ones currently used in official sources and album arts. All the others are unofficial/outdated. And for those who still use "buta-otome": the logo doesn't look like this.
Members
[Members screenshots are taken and edited from the Flowering Night 2020 live]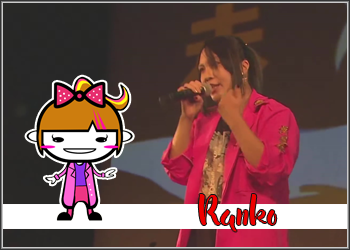 Ranko (ランコ) | Human
Role: Vocals, lyrics
Birthday: 20th February
Blood type: B
Likes: Fashion (especially tights, stockings and such)
Hobby: Derivative works
Favorite Touhou characters: Marisa, Yuuka, Mokou, Joon
Name origin: from a character of the anime/manga "Totsugeki! Pappara-tai"
Pets: 5 cats – Mikoto, Sarasa, Subaru, Ryou, Shion (currently at her parents' house)
Twitter | Instagram | Filmarks
Comp (コンプ) | Polar Bear
Role: Bass, guitar, programming, lyrics, composition, arrangement, photographs
Birthday: 29th May
Blood type: AB
Likes: Outboard effectors
Hobby: Alcohol
Favorite Touhou character: Kogasa
Name origin: from "compressor", because he loves it
Pets: 2 cats – Satchmo, Jaco
Twitter | Instagram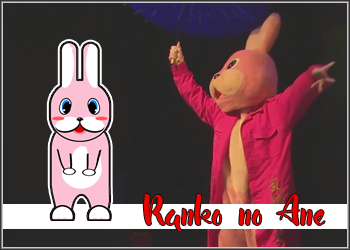 Ranko no Ane (ランコの姉) | Rabbit
Role: Illustration, design, web design, lyrics (2010-2012, 2021)
Birthday: 1st February
Blood type: A
Likes: Rice porridge
Hobbies: Mineral collection, Health
Favorite Touhou character: Sumireko
Name origin: she wanted a nickname, but at the same time she wanted to be anonymous. On the website, I often call her "Sistah", "the Sis", etc.
Twitter | Instagram | Pixiv | Weibo
Former Member
[Screenshot was taken and edited from the Jump Otome DVD]
Paprika (パプリカ) | Cat (2009-2020) Message
Role: Piano, programming, arrangement, lyrics (2018-2019)
Birthday: 7th December
Blood type: O
Likes: Namako (Sea cucumber)
Hobby: Drinking at the gaybars
Favourite Touhou character: Chen
Name origin: From the animated movie "Paprika"
Pets: 1 cat – Chii (commonly referred to as "daughter")
Twitter
Gallery
Click here to see a small gallery of logos, member avatars, and promotional photoshoots.
About this website
Tiramisu Cowboy was created on August 6th, 2015. It's almost entirely managed by one person, who goes by the names "Violet" and "Tiramise".
Violet has been a BUTAOTOME fan since February 2012 and has been closely following their activities ever since. With Tiramisu Cowboy, she hopes to share her love for BUTAOTOME, to give information about them to overseas fans, and to make them more accessible to those who can't understand Japanese.
Here are some personal pages:
– BUTAOTOME dream diary
Weekly updates (One Week BUTAOTOME) are published on Friday unless there is a lack of news. Important news (ex: new album announcements) are published in their own post. Translations of newly published stuff are provided as soon as possible. Other translations and reviews are published irregularly (usually on Sunday).
If you want to use or repost elsewhere any of the translated content on this website (lyrics, blog posts, interviews, etc.), please ask for permission. Contacts are here.
The TC Crew
Chibi Ranko
Chibi form of the BUTAOTOME vocalist. She was born for the purpose of making Violet happy. Acts like a happy and loveable leader of the crew. Loves her "big self". Might have murderous intentions.
Chibi Muse
Chibi form of a certain Seihou character. She was sent from the future to watch over this Pig Girl group. Silent, but also pretty caring about her mates, unless they call her Sakuya. Still hopes for her song.
The Penguin
Penguin form of the one who might have created Chibi Ranko. He defines himself as "a nice penguin with happy feelings all of the time". Still hopes for a new original album. Bibi.
Wumpus
A Wumpus. He helps maintain the website on the tech side. Still misses Paprika a lot. Loves Muse.
Buta the Round Pig
A cute and round pig. Oink.