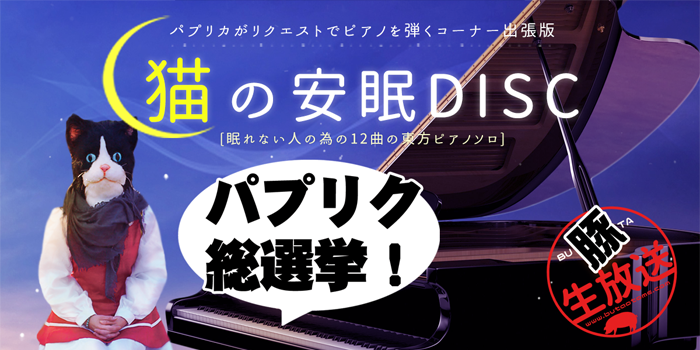 If you watched the recent livestreams (or the videos I upload every week on Tiramisu's youtube channel), you already know about Paprika's piano corner on request, where she plays piano version of old BUTAOTOME Touhou vocals, as requested by votes from fans. Now, this idea has been extended to a CD! It will be a piano solo album (like the first two Nekokenban) with 12 tracks and it will be released in October at Touhou Kouroumu.
The votable songs are from the Touhou albums from Touhou Kaiten Mokuba to Kemonomichi and they are the two most voted songs from each previous poll + Paprika's choice, for a total of 34 songs. You can freely choose 3 songs and it's recommended to vote once per day.
Voting period: from 31st August 13:00 to 7th September 13:00 (UTC). The results will be announced during the livestream.
Official website (with form).
Form page
List of votable songs
| Album | 1st Place | 2nd Place | Paprika's extra |
| --- | --- | --- | --- |
| Touhou Kaiten Mokuba | Machibito wa Kozu. | Mamorubeki mono | Birthday |
| Gensou Homo Ludens | Haruka Tooi Sora no Koe | Gensou no Satellite | Ashita mo Haremasu you ni |
| Long Skirt Panorama Girl | Panorama Girl | Aoi Miren, Aoi Namida | Renge no Yume |
| Tasogare Elegy | Kakoinaki yo wa Ichigo no Tsukikage | Bero bero be | Aware na Minashigo |
| En | Kyou En | Yume ja nai Nanika | Kasanaru Kage |
| Kansha Kangeki Amearare | Yurara Kamishibai | Chigirizake | Chigirizake |
| Oriental Yumekikou | Koishi ni | An'ya Kouro | Niji no Holograph |
| Engen Kagura Uta | Ikiru | Anata to Watashi | Makkuro na Yuki |
| Jitsu wa Sensai na Anata… | Itsumo no Futari | Nai. | Futatsume no Kokyou |
| Kouseki Radio | Moonstone | Pyrite | Pyrite |
| Hikari | Y | Seizai Eijo /// Tsuki wo Kogashite | NAIMAZE |
| Kemonomichi | Ondeko no Namida | Minna no | Minna no |