残酷な神の不在 (Zankoku na Kami no Fuzai) | Shimensoka
Character: Renko
Cover art
スミレコガクエン (Sumireko Gakuen) | 4th Squad
Characters: Sumireko, others
Illustration title: Sumireko-chan no Risou no Gakuen Seikatsu (菫子ちゃんの理想の学園生活, the ideal school life of Sumireko-chan)
SOUND VOLTEX Genesis Card
Character: Eirin
Illustration title: 賢を賢として色に易え [Confucius quote]
Image
三十路メリーちゃんのだらしない乳がヤバイ (Misoji Merry-chan no darashinai chi ga yabai) | 1569
Characters: Maribel, Renko
Short comic.
海の風 陸の花 (Umi no kaze Oka no hana) | UNDEAD CORPORATION
Kantai Collection /// Akagi
Cover Art
博麗霊夢はそこにいる (Hakurei Reimu wa Soko ni Iru) | 腋巫女愛
Characters: Reimu, Marisa
Illustrations for a guest novel written by Ranko: Gengo to Shikou no Kyori (言語と思考の距離, the distance between words and thoughts)
ゲーム制作者のための北欧神話事典
Norse Mythology /// Hel, Níðhöggr, Frigg, Norns
An encyclopedia about Norse Mythology, with illustrations by various artists. Sample
「語」-凋叶棕合同- ("Katari" -Diao Ye Zong Goudou-) | Machaya
Character: Yuuka
An illustration dedicated to the song "Itooshiki mono ni, Utsukushiki mono ni" by RD-Sounds.
東方彩技帖 (Touhou Saigichou)
Characters: Kokoro, Seiga // additional illustrations from Shoujo Rengoku, Itanshinmon, Kemonomichi
This book contains tutorials for how to draw illustrations on SAI and various illustrations from the participants.
First press copies purchased on Melonbooks also included a postcard of Ranko no Ane's illustration of Kokoro
百物語 (Hyakuotogo) | EX-Eientei
Characters: Maribel, Renko
Illustrations for Goch's novel, Soko nashi Numa (底なし沼, bottomless swamp)
This anthology also contains a Butaotome song: Akai Hitomi
少女喫茶倶楽部 (Shoujo Kissa Club) | Hibitsuredzure.
Characters: Renko, Maribel
Illustration title: Astronomy Cafe
Kyoukai kara mieta Keshiki -Meguru- Catalogue cover
Characters: Renko, Maribel
This illustration was subsequently used for Gensou no Satellite on SOUND VOLTEX. Pixiv link
こいしちゃんとおそとのせかい (Koishi-chan to Osoto no Sekai) | Forest306
Characters: Koishi, Cirno, Daiyousei
咲アリ×サクリファイス! (SakuxAli Sacrifice!) | AZITAMATEISHOKU
Characters: Sakuya, Alice
This anthology also contains a Butaotome song: Seijaku na Yoru
TOHO CLOCK
Character: Chen
A collection of various short animations made by various artists. Ranko no Ane contribuited with a stop motion animation
Currently, the website of the Clock is no longer available: you can watch it here (direct link to Sis' work).
Bucuresti no Utage – Promotional image
Characters: Marisa, Alice
Pixiv link
Goods
Uta Matsuri in Taiwan 2019 T-shirt
Price:
Website

Uta Matsuri 2018 Towel
Price: 1500 yen
Website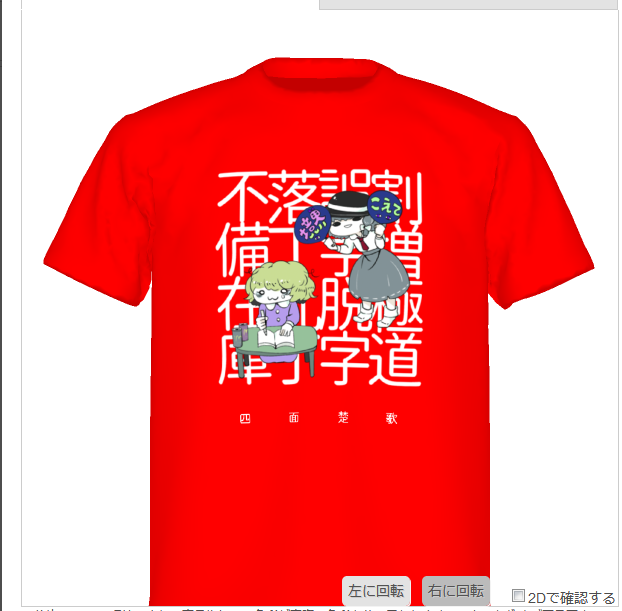 Shimensoka Hifuu t-shirt (red)
Shimensoka Hifuu t-shirt (black)
Shimensoka Renko keychain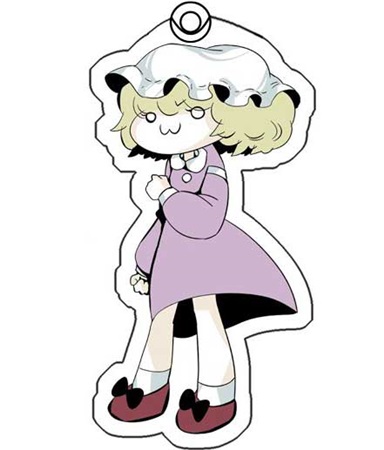 Shimensoka Merry keychain

Autumnal Reitaisai Towel
Special good realized for Reitaisai
Price: 1800 yen
Release date: 24/11/2014 (Autumnal Reitaisai)
Website