Post revised on November 24, 2020. This post has been entirely retranslated. I've also included the parts of the original post that were not relevant to the Ayakashi Yokochou commentary.
In this post from BUTAOTOME's fanclub, Ranko talks about Ayakashi Yokochou (the lyrics she wrote and a general comment about the album).
————
Greetings, good evening, hello, Ranko here.
The year ends before you realize it! I say that every year. I don't even feel it~ every year… Merry Christmas! I just wanted to say that I thought those were booming words. Christmas has passed. I'm sorry for being late. Merry Christmas! [2]
There are many illuminations in various places, so I thought they would be beautiful to see, but I didn't dare to go.
Last Christmas, my friends and I watched a single episode of a superb anime called Nagi-Asu: A Lull in the Sea at my house, but this year I really didn't do anything. A few years ago, I spent Christmas watching a lot of dark Japanese movies. It was just like Masaru's Christmas party. I was alone, though.
I thought about writing a year summary,
but I've been writing blog posts since June, I've written for half of the year, but my phone broke in August, and when I tried to back up the data, I found that I hadn't been connected to a computer since February( ;∀;)
As I mentioned in my previous post, I'll write about our new Touhou vocal arrangement album.
It's still unreleased, but… it's not really a spoiler, so feel free to read it.
You can re-read this post while listening to the album, after the release. (・∀・)b
For "Ayakashi Yokochou", I wrote 3 lyrics.
The Green-Eyed Jealousy arrange "Utsukushii Hito",
The Plain Asia arrange "Tanin no Kao",
The The Lost Emotion arrange "Hitokakera".
I wrote the lyrics for a Parsee song for the first time since "Makkuro na Yuki" on Engen Kagura Uta. That was the stage theme, but I tried to link the lyrics.
That song was Parsee's viewpoint, this time is the viewpoint of a human.
The temporary title was "Medetashi Medetashi" (めでたしめでたし, and they all lived happily ever after), but that's not happy at all. It's actually like a scary Grimm fairy tale.
Being able to control the jealousy of other people, and having your power being amplified by your own jealousy is something very strong and simply frightening. Such human might be the last thing you'll ever meet…
I really like the theory that Parsee is the Hashihime, at first I thought about writing the lyrics from the viewpoint of a human man who is attracted by Parsee, but I hope I will be able to write it one day.
I wrote the lyrics of a Keine song since "Towa no Maigo" in the first Shoujo Rengoku. Oh, and I kinda exclude "Kogishunjun suru Kashihon'ya" on Suzu no Sorane. Because that's linked to the Forbidden Scrollery chapter (・∀・)
Towa no Maigo was about the humans' foolish parts as seen by Keine, but this time I wrote about KeneMoko. I love KeneMoko. It's a song from Keine to Mokou.
It feels lonely when the strength, the weight, and the direction of your thoughts aren't the same, but well, sometimes such feelings are a fight for nothing, they are mutual, and it's a happy ending. I mean, this is KeneMoko for me, so this song is about how they might feel on the way there.
I really like this arrangement and even after I finished recording it was stuck in my head for a while. It was hard to sing, but I love it.
And this is the first time I wrote lyrics for a Kokoro song. The more I get to know Kokoro, the more interesting and cute she becomes.
I like the part that Koishi picked up the Mask of Hope she lost and I wanted to write about it, but that will be for another day!
KoiKoko might be a pairing I like, after KoiFlan.
Anyway, I think it's lovely that Kokoro slowly becomes more human little by battling various people and dancing to new Noh plays every day. I arbitrarily made a story in my mind. I wrote the lyrics with plenty of hope and I sang them in a gentle mood.
This time we have re-arrangements of "Koi no Yamai" and "Utakata", songs which I previously wrote lyrics.
I remembered how I felt when I wrote the lyrics, and added my current interpretation as I re-sang them to fit the rearrangement.
I hope you will like them.
"Mesen" is so cool, it's the usual BUTAOTOME, but hey, the singing is like a sport! LOL
The intensity reminds me of the song "RAKUEN" from "Paradise Lost".
But I'm sure I was squealing the first time I sang Gensou no Satellite, so I'm sure it'll be okay once I get used to it, yep (telling myself
"Inzen" has a very good kayou rock feel to it, hasn't it?! It's melodious, and I love the guitar riffs and the piano as if they were all singing.
Personally, I think I did a great job of singing it, so I hope you'll listen to it (´∀`*)
"Dare ni mo Ienai Blues" was the first time I've ever sung a kayokyoku song, and I wasn't sure if the final refrain was good; I sang it while thinking that, but I was relieved when I heard the finished song.
I think it's an unusual arrangement, not only for us but also in general, and I hope you enjoy it.
Well, I wrote a lot. I'm sorry for the long post. Thank you for reading. "Touhou Nekokenban 15" and "Touhou Otogee Best" will be released at the same time!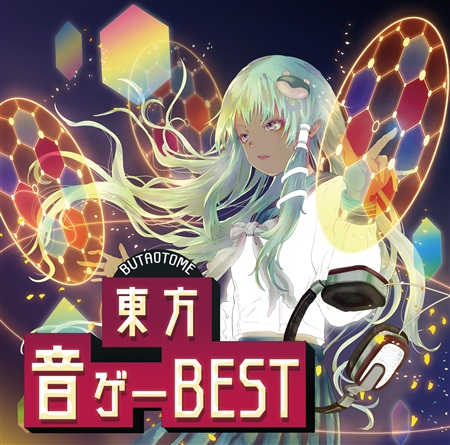 And this will be my last blog post of the year.
It is thanks to you, the readers, that I am able to write here.
Thank you very much for this year. Thank you very much for your support. I wish you a safe and healthy remainder of the year and I wish you all the best next year.
Happy New Year!
Ranko.