The official website has been updated with more details regarding the upcoming Marisa-themed goods and event-limited singles!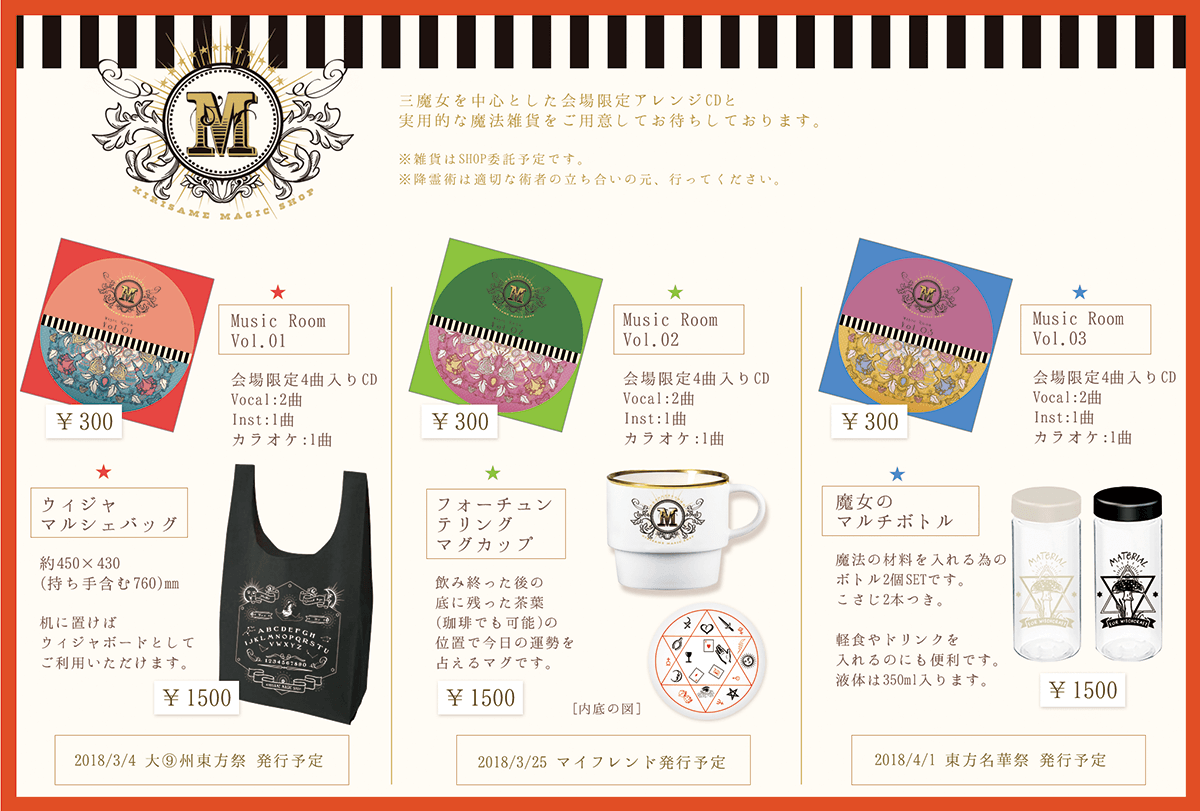 The three goods are based on the Kirisame Magic Shop and will cost 1500 yen each. The "Ouja Marche Bag" will be sold at Daikyuushuu Touhousai 29 (March 4), the "Fortune Telling Mug Cup" will be sold at My Friend 5 (March 25, part of the "Touhou Goudou Saiji 6" event) and the "Witch's Multi Bottle" at Touhou Meikasai 12 (April 1). At these events, new "Music Room" singles will be distributed.
Each one of the 3 singles will cost 300 yen and will have two new arrangements of themes of the MariAliPatchy trio, an instrumental of an old Marisa song and an unknown karaoke track. Titles of the new songs are still unknown and XFDs will be posted in the next weeks.

Music Room Vol.01 [Daikyuushuu Touhousai 29]
1. ??? [Romantic Children]
2. ??? [the Grimoire of Alice]
3. 丁か半か色即是空(inst) | Choukahanka Shikisokuzekuu (inst) [Love-Colored Master Spark]
4. ??? (karaoke)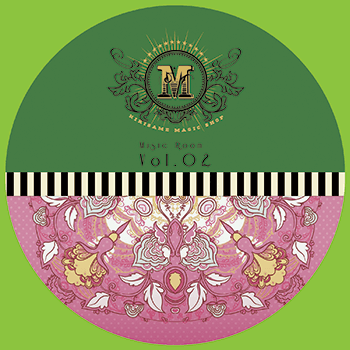 Music Room Vol.02 [My Friend 5]
1. ??? [Selene's light]
2. ??? [Magus Night]
3. 夢じゃない何か(inst) | Yume ja nai Nanika (inst) [Vessel of Stars ~ Casket of Star]
4. ??? (karaoke)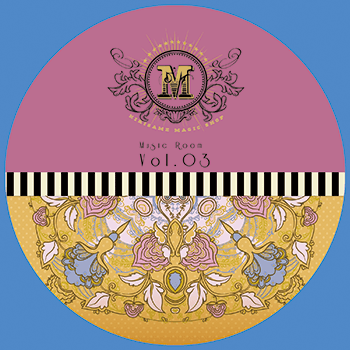 Music Room Vol.03 [Touhou Meikasai 12]
1. ??? [Locked Girl ~ The Girl's Secret Room]
2. ??? [The Witches' Ball ~ Magus]
3. 死 ~shi~(inst) [The Witches' Ball ~ Magus]
4. ??? (karaoke)
On a side and personal note: BUTAOTOME never re-released music that was originally event/live-limited, but this way of releasing singles with new songs at minor events reminds me a lot of what circles like Akatsuki Records and Shinra-Bansho are doing: releasing singles at minor events and then collecting them in a full album. I personally think Comp got inspired by them and wanted to try out this way of making a new album, so hopefully we might see the new songs in a future album. But in the worst of the cases, I still hope I'll be able to get them somehow!