( ͡° ͜ʖ ͡°)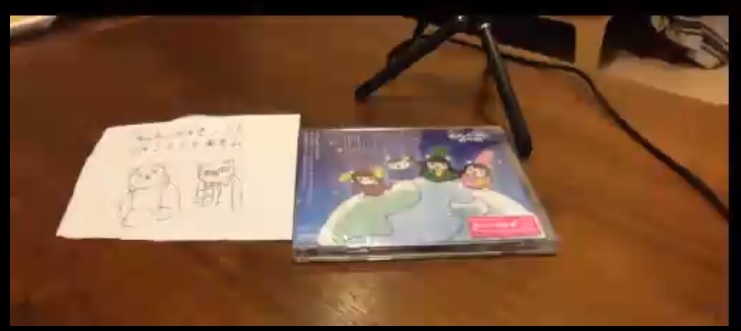 Guruguru Ponpon Daisakusen
Guruguru Ponpon Daisakusen is the new opening theme for the anime Neko Neko Nihonshi/Meow Meow Japanese History, written and composed by Comp and sung by the female vocal unit elfin'. The anime is about Japanese historical figures as cats and you can watch it on Crunchyroll!
The short version of the official video has been uploaded on Youtube and it features BUTAOTOME's three animals. Watch it here.
The single of the opening has been released today! Unfortunately, it's not available on digital shops outside of Japan. However, it's on Spotify.
For those who want the physical single, there are still the options you normally use for Japanese major albums, such as CDJapan (also, apparently Amazon JP doesn't ship it).
Make sure you buy the limited edition with DVD (the one with the cats on the cover), as it has the full video of the song and its making of!
Last but not least, Guruguru blabla is also available on Joysound, for your karaoke pleasures!
Reviewing the track, I would describe it as "if Minna no was in a Shoujo Rengoku album, but with idol vocals". While the instrumental is great and so Comp-ish, I'm not a big fan of the vocalists, who are too idol-esque. However, there is a lot of potential in this song that makes me look forward more anime openings by our bear!
Now, to the other news of the week…
Comiket 95
It's that time of the year again! More info here.
Kagaku Seiki no Café Terrace 8
The Hifuu-only event in Kyoto is this Sunday! BUTAOTOME will have a booth and they will sell the previously announced Moon Tour news t-shirts. They will probably also distribute the Yuusei Hakurankai Memorial Disc to those who will buy the album. In addition, Shimensoka will sell more goods made by Ane (including some keychains) and also a book with her illustration on the cover. The title is "Zankoku na Kami no Fuzai" (残酷な神の不在, the absence of a cruel god) and it's a post-Torifune Hifuu serious story.
Super-Sis' art corner
– Morrigan from Darkstalkers
– Chun-Li from Street Fighter
Other relevant things
Ranko will be at Hotaru "EvenTheGirlsWantHer" Murasaki (best known for being one of the main vocalists of EastNewSound)'s birthday party on December 23.

TC Crew Theater 69