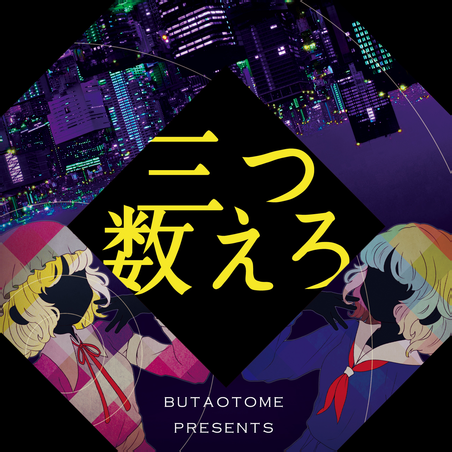 Title: 三つ数えろ
Romaji: Mittsu Kazoero
Translation: Count to three
Arrangement: Comp
Lyrics: Ranko
Vocals: Ranko
[Artwork from SOUND VOLTEX by Ranko no Ane]
Original theme:
Majutsushi Merry – Rendaino Yakou ~ Ghostly Field Club; track 6
Albums:
Book:
Rhythm games:
SOUND VOLTEX [KONAMI] (ac, pc, mo)
jubeat [KONAMI] (mo)
Karaoke services:
Sample:
Versions
Original version: the one released on Arikitari na Nouzui yo, Koyoi no Tsuki to Odore and the various best of albums.
MEMORIAL ver: a rearrangement. Available only on the event-limited Yuusei Hakurankai MEMORIAL DISC.
Lyrics
切り裂いた闇戸惑った
姿形を隠して
何処に狂り消える
kirisaita yami tomadotta
sugatakatachi wo kakushite
izuko ni kururikieru
その日はずっと
なにかが変で
いつもと違う空気だった
昼間の空に
禍々しくも輝く満月がチラリ
sono hi wa zutto
nanika ga hen de
itsumo to chigau kuuki datta
hiruma no sora ni
magamagashiku mo kagayaku tsuki ga chirari
「この世界が変わる瞬間、見たいでしょう?」
残像が、笑った
"kono sekai ga kawaru toki, mitai deshou?"
zanzou ga, waratta
願いを放て冷えた空に
三つ数えて仰いだ
瞼を開いたら
踏み出した闇戸惑った
姿形を隠して
何処に狂り消えたの
negai wo hanate hieta kuu ni
mittsu kazoete aoida
mabuta wo hiraitara
fumidashita yami tomadotta
sugatakatachi wo kakushite
izuko ni kururikieta no
わたしになくて
あなたに視える
信じれば現実になる
認めなければ
御伽噺は
あなたを連れ消滅
watashi ni nakute
anata ni mieru
shinjireba genjitsu ni naru
mitomenakereba
otogibanashi wa
anata wo tsure shoumetsu
「悪い夢を見ただけよ、忘れましょう?」
残像が、慰む
"warui yume wo mita dake yo, wasuremashou?"
zanzou ga, nagusamu
ざわめく夜に誘う声
「こちらにおいで」
聞こえる
誰かが潜む影
ニセモノの闇叫んでも
答えるひとは亡骸
何処に出口はあるの
zawameku yoru ni sasou koe
"kochira ni oide"
kikoeru
dareka ga hisomu kage
nisemono no yami sakendemo
kotaeru hito wa nakigara
izuko ni deguchi wa aru no
願いを放て冷えた空に
愚かな夢と引き換えに
不思議の国に攫われ
それでも、二人なら
固く繋いだ手のひらは
決して離れることなく
怪しい笑も知らずに
negai wo hanate hieta kuu ni
oroka na yume to hikikae ni
fushigi no kuni ni saraware
sore demo, futari nara
kataku tsunaida tenohira wa
keshite hanareru koto naku
ayashii emi mo shirazu ni
Translation
I teared up the darkness, confused
It hid its form
It's where we disappeared into madness
All that day
Something was wrong
The air was different from usual
In the daytime sky
A glimpse of full moon was ominously shining brightly
"Wouldn't you like to see the moment this world changes?"
The afterimage smiled
I released my wish into the cold sky
I counted to three and looked up
When I opened my eyelids
I stepped out into the darkness, confused
It hid its form
Where did we disappear into madness?
I don't see it
But you see it
If we believe it, it will become real
If you don't admit it
The fairy tales
Will take you into nothingness
"It was just a bad dream, okay? Let's forget it."
The afterimage comforts me
A voice invites me into the murmuring night
"Come here"
I can hear it
Someone is lurking in the shadows
Even though I shout in the fake darkness
The one who answers is a corpse
Where is the way out?
Release your wish into the cold sky
In exchange for a foolish dream
We are kidnapped in Wonderland
But still, if it's the two of us
The palm of our hands, tightly joined
Will never part
Unaware of that suspicious laugh