First of all, BUTAOTOME are almost done with the C93 albums, which will be probably the usual Touhou vocal + Nekokenban 15! Comp said that he made a devilishy cool song that he wants to play during the tour! The bear also tweeted that the album has lots of variation in the songs. Today Ranko tweeted that she is done with her recordings, also a couple of days ago she said that she will talk about her new lyrics in a future blog post in the fanclub. I generally don't talk about the stuff they post in the fanclub because I respect BUTAOTOME's decision that they want to keep it exclusive for the fans who paid for the subscription (for me, reposting photos/videos from the fanclub is exactly like posting album rips), but I could make a little exception for this since it's music-related! (most of their blog posts are personal stuff anyway)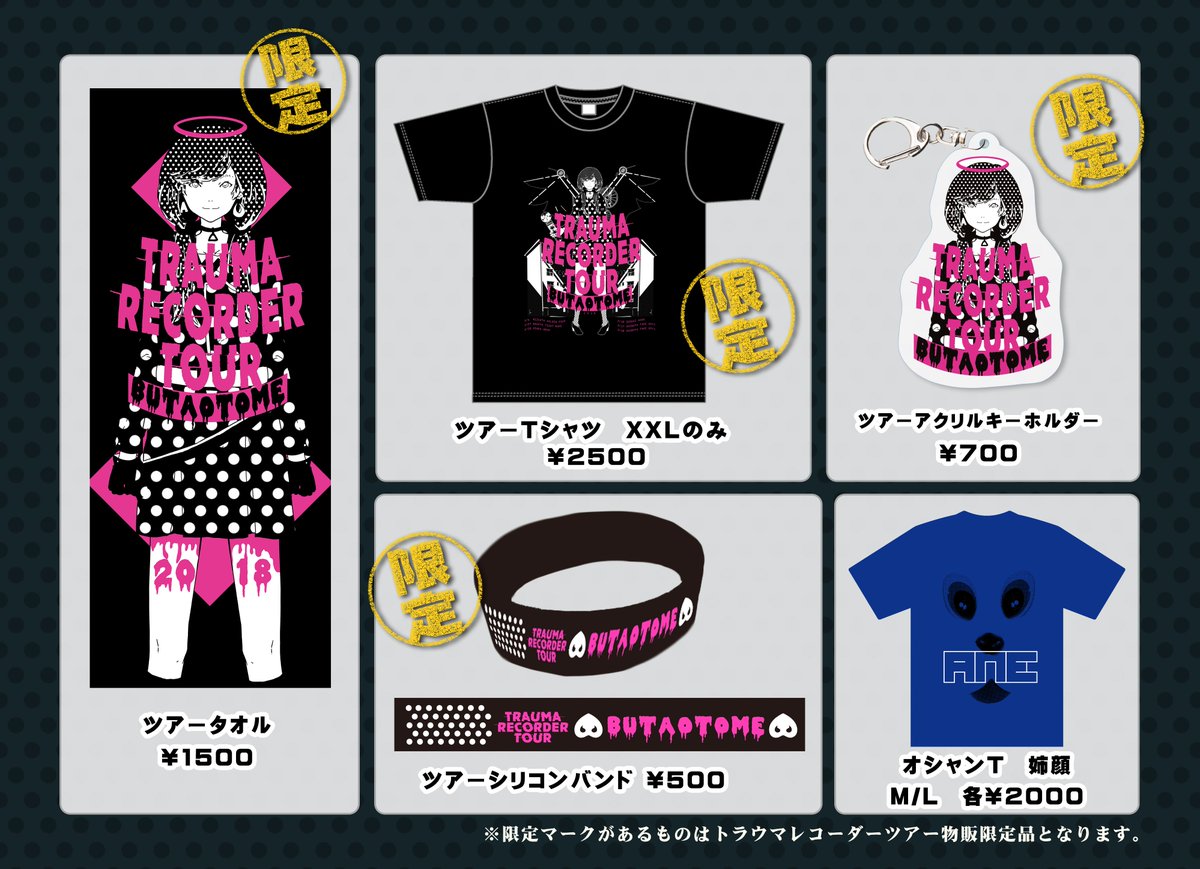 The goods for the Trauma Recorder tour have been announced! Tour-themed t-shirt, towel, wristband and keyholder and, as part of the Oshanti series, a creepy t-shirt with Sis' face. Only the Sis t-shirt will be available in future lives outside of the tour.
This has been reported already, but Melonbooks will release two compilations for C93, and both of them feature new BUTAOTOME songs! More details in this post. It's also interesting to note that Buta are the only circle featured in both albums!
The January issue of Bass magazine, to be released next Tuesday, will feature a Comp interview! It will be 3 pages with pictures. Here is the Amazon JP link. I'll try to get it somehow with the help of my friend! (Cooooooooomp I'm doing this for youuuuuuuuuuuuuuuuuu…… [2])
Next Wednesday there will be Compachi's super-mega livestream, where the blonde bear will reply to the problems submitted on the secret form accessible from the QR Code on Melonbooks' free sticker.
That's all for this week! By the way, I suggest you to follow TC's twitter, if you don't do already: it's the social network where I post more updates. I don't bite and I don't flood your timelines with 5000 tweets per day!
TC Crew Theater 24