Post revised on December 24, 2020. This post has been retranslated. I've also included all the pictures the parts of the original post that were not relevant to the album commentary.
For the first time ever, Paprika decided to post a track-by-track commentary about her newest work! This is a translation of her latest fanclub post, where she talks about Touhou Nekokenban 18!
---
Everyone, good evening.
Paprika here. Recently, I've been eating ice fruits every day.
I don't eat ice stuff very often, but
when it's hot like this every day, I feel like eating it.
I like ice fruits because they are not too fruity.
To everyone who came to BUTAOTOME's space at Summer Comiket
and got a copy of our new albums, thank you!
I hope you enjoyed them.
Today I want to talk about the making of the Nekokenban.
This time's theme is summer! Summer! Summer!
What a summery jacket.
I haven't seen a bug net and a bug basket since I was a kid.
Now I'm really not a fan of bugs,
so I was horrified to think that I used to carry around these things with me,
rustling around with bugs in them.
Track 1: "Konpeki ni Kin no Myoujou"
This is a song for the beginning of a summer day, as the dawn is about to break.
I made it with the image of the sky becoming white.
I started the production of the album with this song.
Track 2: "Kazekaoru Biidoro no Oto"
Cooling yourself while listening to the sound of the wind chimes at the balcony, this is THE summer scenery feel.
I want you to wear a yukata, if possible.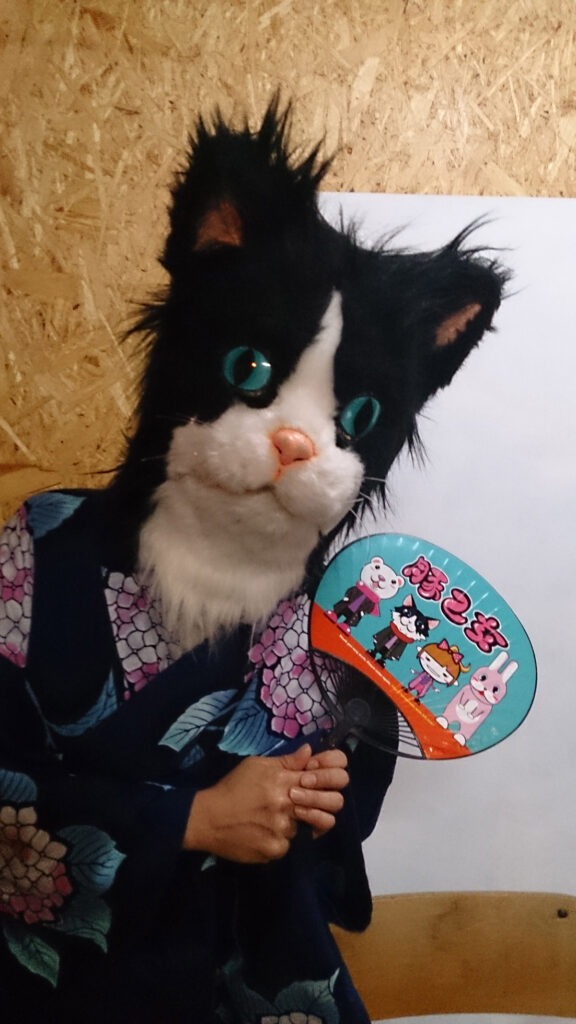 These are wind chimes in Asakusa.
Track 3: "Koorigashi Hitotsu"
This song uses the sound of a harp,
but harp tones are somehow summerish.
I wonder why?
Please listen to this one while eating ice fruits.
Track 4: "Hikaru Minamo ni Utsuru Funasoko"
Bossa nova means summer! Summer means bossa nova!
I tried to make it sound like bossa nova.
"Captain Murasa" is often arranged in a way that reminds me of water.
It was the same for "Shichinin misaki" from Nekokenban 12.
Track 5: "Uka wo Matsu Natsu no Yume"
A happy & cute feel, I guess.
I tried to make it sound like a girly song.
This song also has a bossa nova feel on the guitar
to give it a summer feel.
My favorite butterfly yukata.
Track 6: "Hakaba kara Kita Musume"
I tried to give this song an oriental atmosphere.
It reminds me of a hot country, so I think it will bring out the summer.
The stand out element is the sound of the sitar, an Indian stringed instrument.
Track 7: "Gokigen Parasol"
As the title says, this song is for a good day~.
I tried to sprinkle some Latin elements in it.
I think the organ gives it a nice flavor.
Makes me want to drink a mojito. (Cuban summer cocktail).
Track 8: "Mizube de Machiawase"
The Japanese summer, for a complete change.
My father cat is from Iwate, so I can't help but think of the Kappabuchi Pool.
I imagined it with the feel of the summer sunlight falling in small streams through the trees.
The strings play a big role in this Nekokenban~.
My grandma cat lives here.
Track 9: "Matsuri no Junbi"
It was a bit hard to arrange this song.
It's "Shinkiroubayashi", so the festival touch is strong,
but I wanted to give it a different feel.
I worked a lot on the chord progression.
Track 10: "Yuugure wa Aki no Nioi"
The accordion really gives
feels of nostalgia, twilight, sorrow.
I want to try it because it's the same keyboard instrument,
but it's too heavy for me.
Track 11: "Yaen"
This arrangement is my favorite~.
It was inspired by one of my favorite songs.
I thought the strings added a nice touch.
I hope you can feel a bit of sadness in it.
Track 12: "Mijikai Owakare"
This is another arrangement inspired by one of my favorite songs.
I wanted it to be a relaxing song, so I made it longer.
This song also has a Latin flavor.
There is no sea in Gensoukyou, but I really wanted to include the sound of waves.
It's a longing for the sea.
Listen to the Nekokenban and get through summer.
Musume is also hot and angry.