Original post (free)
Part of a series of posts where Ane will talk about the albums featured in the Ura Best.
---
Ranko no Ane here.
I think I'll be dropping some production stories from early albums for a while.
Please forgive me for the lack of music-related talks.
[Touhou Kaiten Mokuba]
The copy text on the obi reads, "Nice to meet you, we are Butaotome"
It's not often that you get to greet someone with a catch copy, is it?
Title
As it was our first CD, I did a lot of self-googling and saw a number of people misidentifying the merry-go-round as a wooden horse (bench used in SM practices). How so!? Even though the cover art is supposed to be an amusement park.
At the same time, I also saw some comments like, "When the circle name is vulgar, the CD title is too gross". How so!?
I mean, is really that close to the drawer of a wooden horse? It wasn't that I didn't like being told that. It was just very strange.
Cover art
I, Ranko no Ane, have been in charge of all the drawings and designs since the very beginning, but for Touhou Kaiten Mokuba, I only drew one art for the booklet and commissioned three other artists for other illustrations.
Illustrations
Cover art: Ryouya Kazami
Booklet illustrations: Amo, Shion
Concept
As for the original songs, we made a list of the arrangements we wanted to do within the members, and give the impression of amusements in various directions, and yet still being night-like… that's all about we decided to do when making a CD, and then something started.
The lineup is surely night-like in some way… isn't it?
We wanted to do something fancy by putting a piano arrangement at the beginning and the end, so they are something like an entrance and an exit.
We didn't continue to do this because the band thought it would be distracting when listening to it repeatedly.
Design
I, Ranko no Ane, did it.
It was almost the first time for me to design and submit a printed product, so… The only thing I remember clearly is that I lost a lot of time because I didn't know what was going on. It was more than 10 years ago.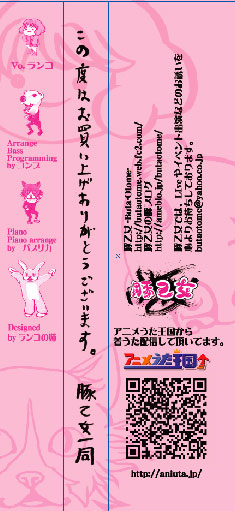 This is the back of the obi. It has our oldest profile pictures. I feel so old when there are announcements of ringtones and such.
This too dirty text is mine.
I didn't go through the process of "planning the design in advance" for this CD, so the visibility is not good throughout. Please forgive me.
We made two PVs.
This is the first arrangement we made. Arrangement and lyrics: Comp.
At this stage, we didn't have any plans to make a CD or anything like that, but we just made an arrangement and we wanted to have a music video if we were going to have one, and that's what we got.
At that time, Ranko was uploading covers, so the threshold for releasing a song with a video was relatively low.
I feel that everyone was doing it. We are from the Nico Nico Douga generation.
However, when it comes to moving pictures… It's like I just want to draw this and that, so I just move them around, or I just put them where I want.
Here, the intro has such pictures… It was a good reminder of the need to think properly about structure.
The second music video song. It's a good title even now, isn't it?
I made use of the experience I had last time… I thought of the composition with the intention of showing only one character.
Monster Sign "A Forgotten Umbrella's Night Train" (E/N)
Monster Train "Spare Umbrella Express Night Carnival" (H/L)
Umbrella Sign "Lightly Falling Large Raindrops"
Based on these spells, I collected materials with images of train stations, trains, and light rain.
The flowers that appear here and there are bellflowers.
I've been told many times, "You like Shaft, don't you?" but I haven't been through there… I think I was influenced by Yukio Ninagawa's Shintoku-maru, which I've seen a great many times. It's not very good at all, but it has the feel of a Japanese-style production. I also liked Kyojiro Hagiwara and other Dadaism poets, so I think I wanted to create that feeling.
This is the kind of text direction.
I realized that maybe I'm a bit of a fan of what is often described as Japanese style? I'm glad I got it.
I'm going to say something really unimportant: "A! A! Uwaha!" It's a little strange, isn't it?
Ura BEST
Mamorubeki mono
Original: Meiji Juunananen no Shanghai Alice
The fear is oneself
Original: Shoujo Satori ~ 3rd eye
We've played both of these fairly often live. Their explanation is on the Ura BEST booklet, so I'll skip this part.
Lyrics
Comp wrote 5 songs, Ranko 2, and me 1.
In particular, "Birthday" had an unusual angle… or perhaps the impact of a doujinshi, and many people still say they like it.
Conclusion
When I write a lot of things like this, no matter how I think about it, it seems to be all about reflection….
This series of articles will continue for a while, so I'm trying to find a groove.
If I'm going to go through all the trouble, I'd like to find out what I was thinking at the time and what I discovered, so that I can use it in the future.
This is also a notice to the other members.
So, please follow me for a while.
And this was the story about Touhou Kaiten Mokuba.
Ranko no Ane