Official page with the info about all the releases
This time we have 3 albums! Each album will cost 1000 yen (event price, shop price will be slighty expensive as usual) and they will be sold at BUTAOTOME's booth at Comiket and in the best doujin shops from August 10. Note: there are no XFD and single websites at the moment.

Let's start with Shoujo Rengoku 4 (少女煉獄 第四巻)! Featuring all the characters/artworks the Sis posted on Twitter during the past weeks. Oni-san Kochira, the Kosuzu song that was released for the Suzunaan-only event at the beginning of the month, is here.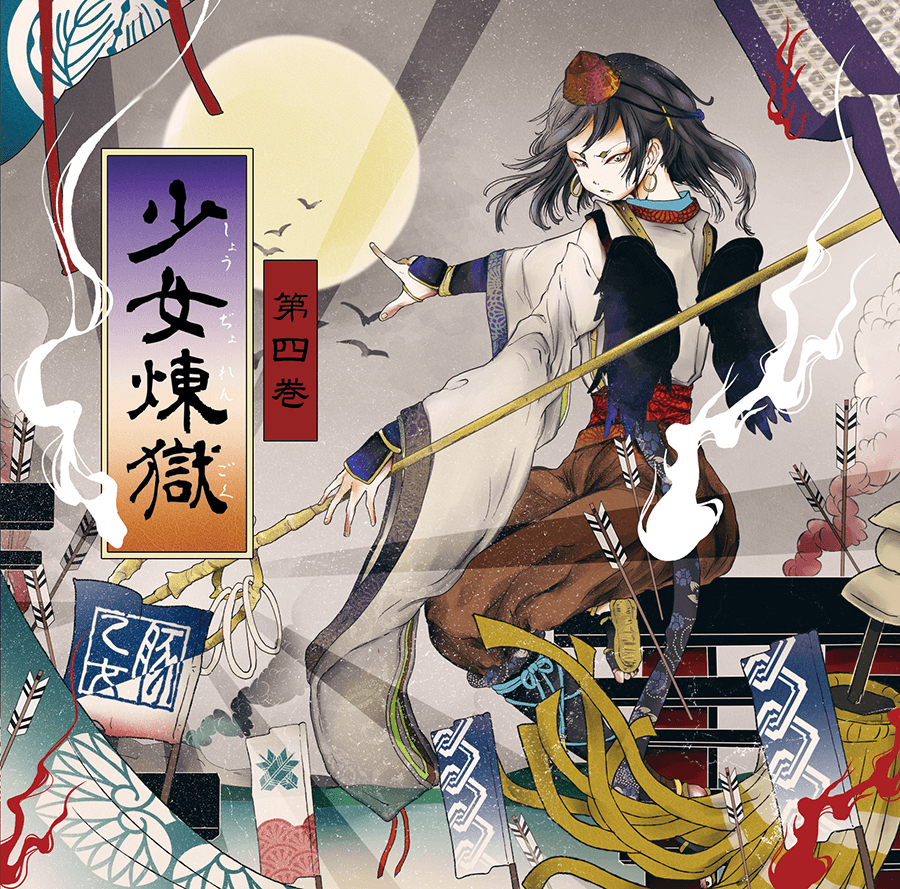 1. 畢竟成仏 | Hikkyou Joubutsu [Mahou no Kasajizou]
2. 雫 | Shizuku [Mist Lake | Hikyou no Mermaid]
3. 一枚の投影 | Ichimai no Touei [Tengu ga Mite iru ~ Black Eyes]
4. ヤキモキノヌエ | Yakimoki no Nue [Heian no Alien]
5. 我楽多 | Garakuta [Chiisana Chiisana Kenshou]
6. 白い花 | Shiroi Hana [Poison Body ~ Forsaken Doll]
7. おにさんこちら | Oni-san Kochira [Handokugan no Bibliophilia]
8. 妖精の夢 | Yousei no Yume [Manatsu no Yousei no Yume]
Now, the most unexpected one: Daifugou (大富豪). The complementary side of Daihinmin. It features AoCF characters who didn't appear in the previous album (but why is there a satori…).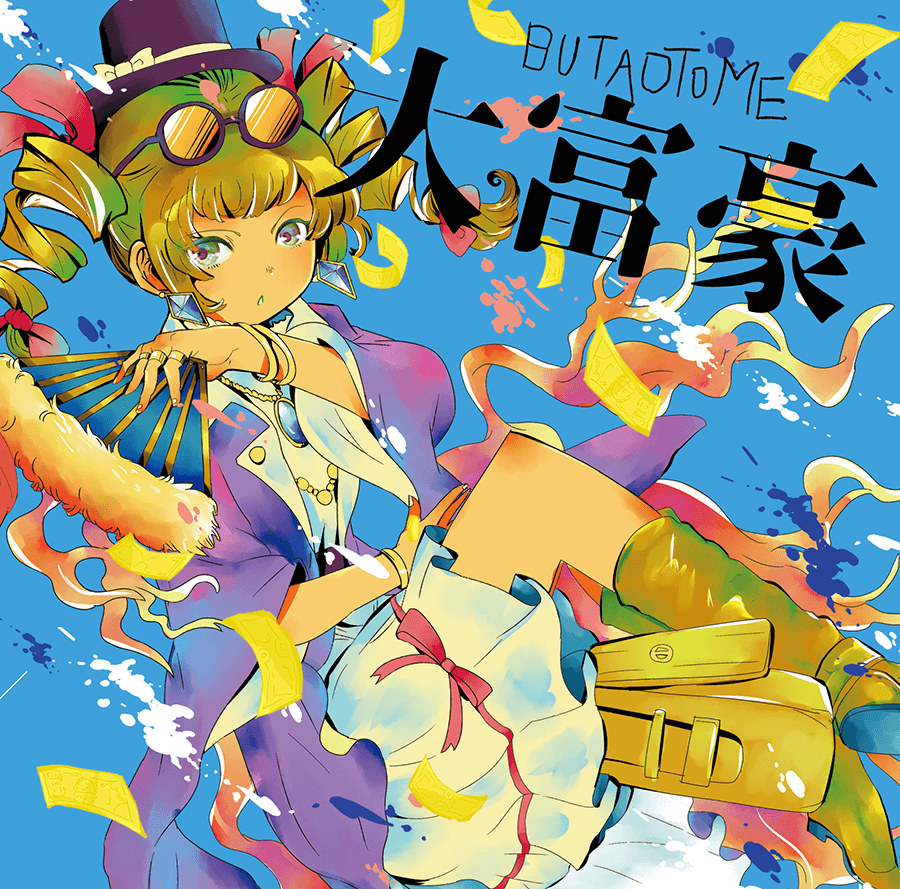 1. ファビュラス | Fabulous [Koyoi wa Hyouitsu na Egoist ~ Egoistic Flowers | Kaien Majika]
2. 世界は思うより広く面白いはず | Sekai wa Omou yori Hiroku Omoshiroi hazu [Kagayaku Hari no Kobitozoku ~ Little Princess]
3. 高慢ちき | Koumanchiki [Boushitsu no Emotion]
4. 黎明 | Reimei [Houriki no shita no Byoudou | Kanjou no Matenrou ~ Cosmic Mind]
5. 言葉イラズ | Kotoba Irazu [Fumetsu no Red Soul | Tsuki made Todoke, Fushi no Kemuri]
6. ハシル | Hashiru [Jidai Oyaji to Haikara Shoujo]
7. 今並べ(大富豪ver.) | Ima Narabe (Daifugou ver.) [Shoujo Satori ~ 3rd eye]
8. 越-ETSU- [Hikari Kagayaku Tenkyuugi]
There is also a Daifugou VS Daihinmin t-shirt in M and L sizes! 2000 yen at the event, it might be sold on Melonbooks in future.
And at last, with the 16th Nekokenban (東方猫鍵盤16) we go to Gensokyo's Louvre! Each track is named after a famous painting.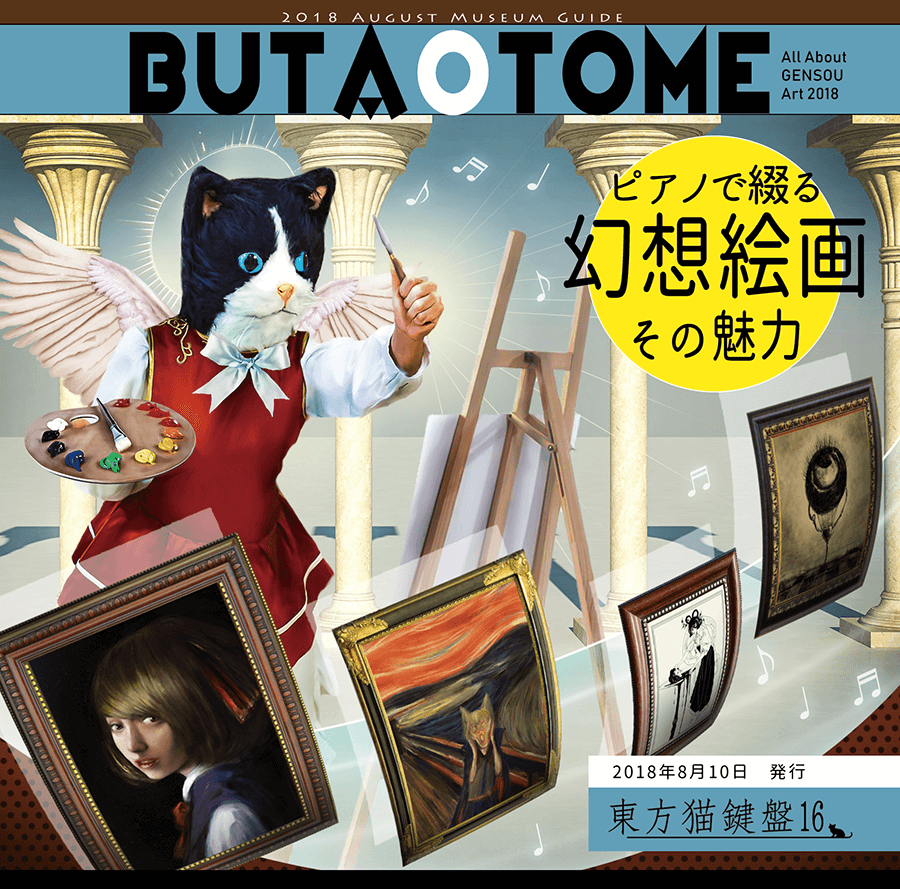 1. いくつかの円 | Several Circles (Wassily Kandinsky) [Natsukashiki Touhou no Chi ~ Old World]
2. 山高帽の男 | Man in a Bowler Hat (Rene Magritte) [Oozora Majutsu ~ Magical Astronomy]
3. 記憶の固執 | The Persistence of Memory (Salvador Dalí) [Tsukidokei ~ Luna Dial]
4. 黒猫 | Black Cat (Théophile Steinlen) [Haigoku Lullaby]
5. サロメ | Salome (Aubrey Beardsley) [Rigid Paradise | Furuki Yuánshén]
6. いばらの首飾りをした自画像 | Self-Portrait with Thorn Necklace and Hummingbird (Frida Kahlo) [Hartmann no Youkai Shoujo]
7. 叫び | The Scream (Edvard Munch) [Shoutoku Densetsu ~ True Administrator]
8. 眼=気球 | Eye-Balloon (Odilon Redon) [Heartfelt Fancy]
9. 春 | Spring (Alphonse Mucha) [Tenkuu no Hana no Miyako]
10. 相馬の古内裏 | Takiyasha the Witch and the Skeleton Spectre (Utagawa Kuniyoshi) [Higan Kikou ~ Riverside View]
11. 真珠の耳飾りの少女 | Girl with a Pearl Earring (Johannes Vermeer) [Youma Yakou]
12. 希望 | Hope (George Frederic Watts) [Mou Uta shika Kikoenai]
By buying anything at Comiket, you get the usual summer fan, with the cover arts of Shoujo Rengoku 4 and Daifugou.