Everybody's boss rush!
Title: 8
Length: 35:06
Release date: 11/08/2012 (Comiket 82)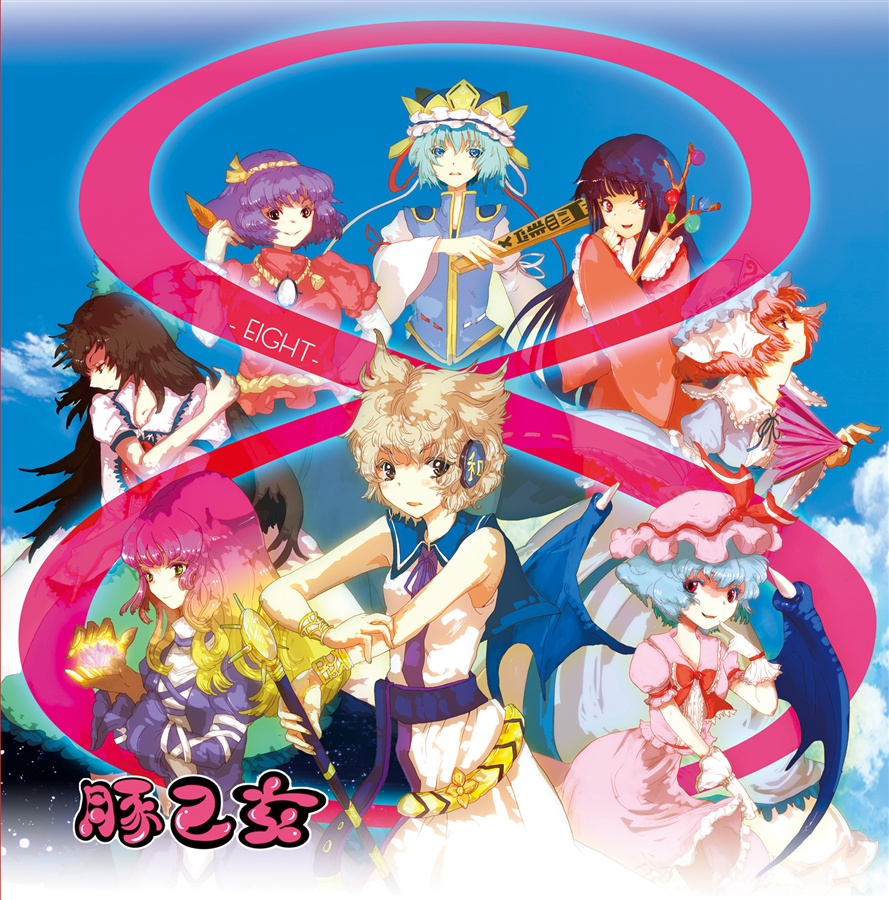 Cover characters: Yamaxanadu Eiki Shiki, Kaguya Houraisan, Yuyuko Saigyouji, Remilia Scarlet, Toyosatomimi no Miko, Byakuren Hijiri, Utsuho Reiuji, Kanako Yasaka
---
Each track of this album is an arrangement of a final boss theme (from Touhou Koumakyou ~ the Embodiment of Scarlet Devil to Touhou Shinreibyou ~ Ten Desires) and is a duet between Ranko and a different vocalist of the Touhou fan music scene.
Ranko (from ButaBest 2): I sang with many different vocalists on this CD.
We tried to gather all the people we really like. Luxury! I had a lot of fun deciding on the original song and writing the lyrics, while taking advantage of each of the singer's unique characteristics.
It was my first time singing with male vocalists, so it was difficult in many ways… I learned a lot.
Tracklist
Staff
Ranko – Vocals (all tracks), Lyrics (tr. 1, 3, 7)
Comp – Arrangement (all tracks), Lyrics (tr. 2, 4, 6, 8), Bass, Guitar, Mix, Mastering
Paprika – Piano
Ranko no Ane – Lyrics (tr. 5), Illustrations, Design
Original works by ZUN
Guest vocalists
Meramipop (Cosmopolitan)
Shoudoteki no Hito (cakebox)
Amane (COOL&CREATE)
Cherose (Crest)
3L (NJK Record)
yonji (Girl's short hair)
ichigo (Kishida Kyoudan & the Akeboshi Rockets, JUDGEMENT)
Beatmario (COOL&CREATE)
Special thanks
Igarashi
Taniya Raku
Hariyaa
ZOONOODLE
Setter
Buy it
Physical: BOOTH | Melonbooks | Toranoana | Akibaoo | Akiba-Hobby | Grep
Digital: iTunes
Streaming: Apple Music | YouTube Music | Spotify | Amazon Music