BUTAOTOME will bring 3 new Touhou releases at the upcoming Reitaisai, on May 5. The official website is here and you can listen the previews on Soundcloud.
First of all we have Epitaph (エピタフ), a full Perfect Cherry Blossom album (because apparently Abyss' concept was well received…)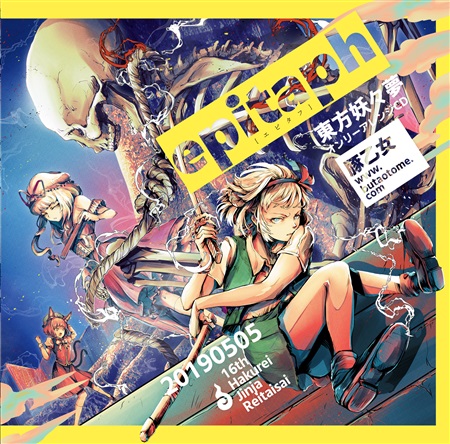 エゴ | Ego [Youyoumu ~ Snow or Cherry Petal]
一言芳恩 | Hitokoto Houon [Youyou Bakko]
桃色ファイブスター | Momoiro Five-star [Tenkuu no Hana no Miyako]
きりり | Kiriri [Ultimate Truth]
垂れ下がる心 | Taresagaru Kokoro [Bucureşti no Ningyoushi]
猫と杓子 | Neko to Shakushi [Touhou Youyoumu ~ Ancient Temple]
白い朝 | Shiroi Asa [Necro-Fantasia]
春の雪 | Haru no Yuki [Mukau no Kyou ~ Deep Mountain]
Next is Riverside Parade (リバーサイドパレード). This is a collection of tracks from Melonbooks' Touhou Party Box compilation series.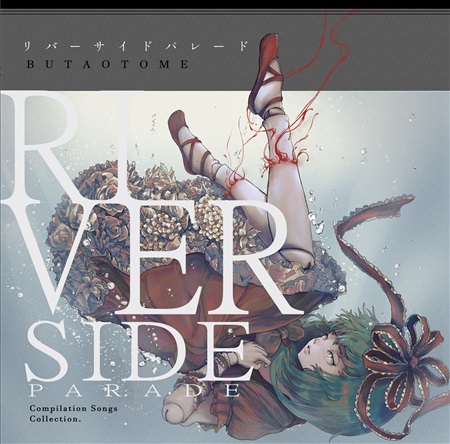 Last album is Finger 21 (フィンガー21), a collaboration album with Zyukucho, COOL&CREATE's guitarist. It can be described as a Nekokenban album with guitar. Original theme-wise, it focuses on playable characters.
おてんば切分法 | Otenba Setsubunhou [Otenba Koimusume]
東風吹けば雨 | Kochi Fukeba Ame [Shoujo ga Mita Nihon no Genfuukei]
レレレのお時間 | Rerere no Ojikan [Koiiro Master Spark]
とある深夜の奇想曲 | Toaru Shin'ya no Kisoukyoku [Shoujo Kisoukyoku ~ Dream Battle]
秘密の11th | Himitsu no 11th [Last Occultism ~ Utsushiyo no Hijutsushi]
つむじ風のサウダージ | Tsumijikaze no Saudade [Fuujin Shoujo]
暴走スヌーズ | Bousou Snooze [Hiroari Kechou wo Iru koto ~ Till When?]
ガール・イン・ザ・ミラー | Girl in the Mirror [Reverse Ideology]
ハンドくんがやってくる | Hand-kun ga Yattekuru [Kyouki no Hitomi ~ Invisible Full Moon]
揺りかごから墓場まで | Yurikago kara Hakaba made [Tsukidokei ~ Luna Dial]
The event exclusive freebie is a clear file with the cover art of the two vocal albums.
And the third celebrative thing of the 10th anniversary is…. BUTAOTOME's BOOTH Store! You can buy nearly every physical BUTAOTOME release (except the major albums and those that are completely out of print), as well as some old and new goods! You'll get a 10th anniversary sticker as freebie.
No digital purchase is provided. BOOTH doesn't ship outside of Japan, so you need a proxy/forwarding service.